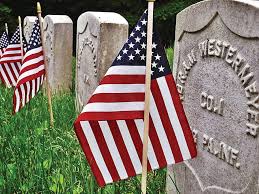 This coming Monday is the day we set aside to re-MEM-ber service men and women who died while on active duty, as well as veterans who have died. In 1971 the date of Memorial Day was changed from May 30 to the last Monday in May, but in Vermont, many of us continue to hold our ceremonies on May 30th, the original Decoration Day.
In Bradford it has long been the tradition for a parade of young people (school bands, scouts) to join behind living veterans marching the flag (colors) to the cemeteries just north of the Village. Once assembled at Upper Plain Cemetery there is a brief memorial service which has in the past included youth recitations and anthems, presentation (salute) of arms by the Veterans, and the playing of Taps by youth/adult buglers.
The children and youth are then given the individual flags to place in the holders at the head of every service member's grave.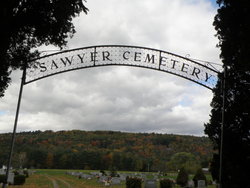 Once completed, they then move across the street to perform the same flag placements.
Smaller but no less reverent flag placements are held at the other cemeteries: West Bradford, Wrights Mountain and family cemeteries.
Traditionally the day before has been recognized as Memorial Sunday at Bradford Congregational Church, with the wearing of red, white, and/or blue. In the years following World War I it was common for a memorial flower arrangement to be placed on the altar and the names of the honored dead placed on slips of paper tied to each flower. It remains a favored tradition to wear the American Legion red poppy to Sunday service as well as the next day.
Do you have photos from Bradford Memorial Days past? Please bring them to share with us during fellowship after worship this Sunday! Let's share our stories of Memorial Days.