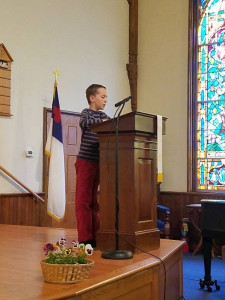 Our church's Pastoral Search Committee is hard at work searching for a Settled Pastor.  We will keep this page updated with those filling our pulpit, as we await this exciting period of time in our church.
Here is the listing of those who will be filling our pulpit in July:
July 9th and July 16th will be our own Cass Poulos. She says, "I am a graduate of Andover Newton Theological School, approved for ordination pending call in the Pilgrim Association, Mass Conference, UCC. I was the intentional supply pastor at Bath Cong Church in Bath, NH. I am passionate out God who in love, continually reaches out to us. Salvation is personal and, if we pay attention to the life Jesus lived, it is also social. We must take the Gospel outside the building and make a compassionate difference in the world. " Let's all give her the enthusiastic welcome she deserves!
July 23rd will be the Rev. Neil Wilson
July 30th will be the Rev. Elisa Lucozzi
 On both the 23rd and the 30th we will be hosting a neutral pulpit for a fellow Vermont Conference church. As a covenental church, we are sometimes asked if we can aid other churches who are seeking new pastors if we can host their search committee and a candidate pastor in what is called a neutral pulpit. This is an opportunity for that church's search committee to experience the candidate leading worship and giving a sermon. This is a wonderful opportunity to hear a voice from outside of our immediate community in the pulpit. (Since we have also just embarked on our search for a new pastor, our search committee will be asking churches for the same hospitality someday in the future. We invite our congregation to engage with the candidate pastor, but to respect the confidentiality of the search process by not seeking to learn what church s/he is a candidate for. The same would go for interactions with members of the search committee. The search committee members will also be encouraged to not divulge what church they are members of. This shows our respect for the search process and its need for confidentiality; to protect the integrity of the process is very helpful.)
August 6th – will be Rev. Dave Pruitt

.  Rev.  Dave Pruitt lives with Anna-Lisa, his wife of 52 years, in Haverhill, NH.  Dave taught high school in Mass. for 30 years before coming to the Upper Valley where he returned to the ministry.  He retired from full-time service in 2002 and has since been doing pulpit supply and interim work, including 2 years here at our own congregation.  During the first 4 months of this year he filled in at the West Newbury UCC  while Rev. Cindy Batten was on sabbatical.  Dave is especially attracted to the  depiction of Jesus of Nazareth in the gospels.  He also finds humor to be far too underappreciated as a spiritual value in church life.