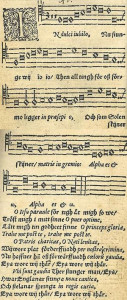 Organist John Atwood's prelude for our worship on December 17th will be Johann Michael Bach's delightful arrangement of In Dulci Jubilo, which means "In Sweet Rejoicing." Johann was the first cousin once removed and father-in-law of J.S. Bach.
In Dulci Jubilo was composed in the early 1300s by a German mystic who, the legend says, heard angels sing the words … and then joined them in a dance of worship.
The original words on the left are macaronic, a mix of German and Latin. In secular use any macaronic verse was a pun or clever play on words from different languages. The term macaronic actually has the same root as macaroni!*  It's from the New Latin macaronicus which is from the Italian maccarone ("dumpling") or peasant food. Now look at the original verse compared with a later translation. See how even the low-born would have been fed with joy when singing this!
In dulci jubilo,
Nun singet und seid froh!
Unsers Herzens Wonne
Leit in praesepio;
Und leuchtet wie die Sonne
Matris in gremio.
Alpha es et O!
In dulci jubilo,
Let us our homage show!
Our heart's joy reclineth
In praesepio;
And like a bright star shineth
Matris in gremio.
Alpha es et O!
When John Mason Neale published his translation it in 1853 he inserted News-News! and Joy-Joy! by adding more music notes.
In dulci jubilo,
Good Christian men, rejoice
With heart, and soul, and voice;
Give ye heed to what we say:
News! News!
Jesus Christ was born to-day:
Ox and ass before Him bow,
And He is in the manger now.
Christ is born today! Christ is born today.
Since 1921 our hymnals have dropped those additional notes, meaning that we are singing the original tune as intended.
*In case you wondered, yes, our childhood favorite "Yankee Doodle," sung first by the British soldiers as a taunt against the American revolutionaries,  referenced macaronic verse with its "stuck a feather in his cap and called it macaroni."