Dear Church Family, for the week of August 25th
11th Sunday after Pentecost
Sunday morning worship is at 10:00 a.m.
Pastor Jeff tells us: As I wrote the sermon for last Sunday based on Luke 12:49-56 it became abundently clear that I would need to break the sermon into two parts. Part one as given last Sunday, Part Two will be given this Sunday, August 25th. Having written the first part, I know the two reaming points I want to develop. Last week I contended that Jesus does indeed come to divide. He proclaims a kingdom that is not of this world and calls us to pursue its inbreaking. The result is a clash between the way of the world and way of God. The question for the faithful is how to live in the midst of such division — a division that occurs within the Christian community as well? That was our central question and our three points were: 1) how does one choose the path to follow when Christendom itself seems divided; 2) how are we to live with the choice we have made?; 3) How are we to relate to our fellow believers who have chosen a different path? Since we attempted to answer the first question, this Sunday we will focus on the last two.
Title: "The Jesus Who Divides — Part Two"
Text: Luke 12:51 "Do you think that I have come to bring peace to the earth? No, I tell you, but rather division!"
Lectionary readings for this coming week: (Year C) August 25-31
Jeremiah 1:4-10 (you want me to prophesize?)
Hebrews 12:18-29 (pay heed to what you hear)
Luke 13:10-17 (isn't the Sabbath best honored by doing God's work?)
Psalm 71:1-6
theme hymn: O Christ, the Healer
Organist John Atwood says: This week we welcome back Chris Rua with the Seven Stars Baroque Ensemble featuring Chris as director, two recorders (Cynthia Crawford and Sue Fritz ), bass viola da gamba player (Dan Meerson). and harpsichord, (John Atwood). The music emphasizes the music during the time of King Louis XIV (1638-1715), the Sun King. The ensemble will play a suite of pieces by Marin Marais (1656-1728) for prelude, special music and postlude. Marais was a celebrated composer for the viola da gamba, and was named "Ordinaire de la chamber du roy pour la Viola." The music is rather ornamented, quite soothing; the perfect setting for a king with all of his regalia and warm lighting. The offertory is by Nicolas de Grigny (1671-1703), organist at Reims Cathedral where King Louis XIV had been crowned. The music features a highly ornamented  melody modeled after an Italian tenor solo. Quite a contrast with the suite by Marais!
Prelude: Suite in G minor: "Prelude"                      Marin Marais
Special Music: Suite in G minor: "Fantaisie"              M. Marais
Offertory: Tenor Solo for the Gloria                            Nicolas de Grigny
Postlude: Suite in G minor: "Saraband, Rondo, Saraband"              M. Marais
Pastoral Concerns: Pastor Jeff Long-Middleton 978-273-6399 pastorjeffuccbradford@gmail.com
Emergency Assistance: Care Coordinator Carole Taylor 802-222-4590
Pastor Jeff's office hours
Sunday afternoons and all day Mondays
978-273-6399 is his recommended number to use at any time;
calls to 802-222-4610 are only answered when he is in the parsonage, but you may leave a message
Vermont Conference Podcast!
Last Summer Revs. Josh Simon (Essex Junction) and Sally May (Malletts Bay, Colchester) created a new podcast: Faith in Vermont. This winter Rev. Kevin Goldenbogen (Charlotte) joined the team. Our latest podcast is a short promotional of the Vermont UCC using 30 second interviews at the Vermont Conference Annual Meeting focused on the theme of the gathering and the question "What in God's Name is Happening in Vermont?" Take a minute to listen to what congregations from around the state are doing and thinking. As well, you can hear our other podcasts that include the themes of introducing Sally & Josh and why we wanted to do this project, hearing from youth who have grown up in a UCC congregation, immigration, climate change, white privilege and racism in Vermont.
Click here to hear the podcasts
Meanwhile, here at Bradford Congregational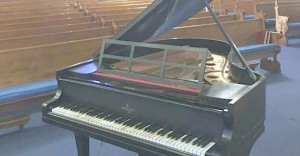 Click Steinway Fund to find the funding page for our beautiful Steinway's restoration underway in Steinway's American headquarters. This grand piano was a bequest to the church by our beloved former organist/choir director and lifelong Bradford resident Katrina Munn. It is one of the very few in the United States that was made in Hamburg,Germany. Our goal is to invest the necessary restoration efforts in order to bring the piano back to its melodic beauty so that musicians near and far can come to Bradford to experience its quality and perform for the community.
Youth Group
We are excited to let you know that beginning on Sunday, September 8, 2019, there will be a youth group at Bradford UCC! The youth group is for kids 12-18 years of age and will be led by Patrick Peters. The group will meet during regular Sunday School hours (10:30-11:00) and will also meet once a month for Youth Night. On Communion Sunday, the youth group will meet 9:00-9:50, then participate in the rest of the regular service.  As part of this group, the kids will participate in community service opportunities, mission projects, leadership opportunities, and field trips.
During youth group time on Sunday mornings, the kids will be exploring the Bible and work on making connections to what is written in the Bible to what is happening in our community, state, country, and the world. By making these connections, the kids will gain a deeper understanding of the stories in the Bible and ultimately come up with their interpretations of what the Bible is trying to teach them.
We are very excited about this new adventure at Bradford UCC and can't wait to start this group with our amazing kids. In order for Patrick to adequately plan for this group, please let us know if your child will be joining us. If you have any questions at all about the youth group, please feel free to contact Patrick at ppeters881@gmail.com or 802-222-9679.
Sincerely,  The Christian Ed Team
Angela Colbeth, Valerie DiLorenzo, Kim Frydman, Bridget Peters, & Patrick Peters
Around Town:
The Oxbow Unified Union School District (OUUSD) is seeking individuals interested in serving on a committee that review the Articles of Agreement. If interested, please email Danielle Corti at dcorti@ouusd.org
Needed: at the Bradford Food Shelf: there's still summertime left … condiments, pickles, chips, individual servings of yogurts and jellos are so welcome. The basket by the church's kitchen door is for food donations. Thank you!
FEATHERS, FUR & FLOWERS ART SHOW Signed, archival prints by photographer M L Gitchel at the Local Buzz, Downtown Bradford, VT thru September 5th. Stop by and see her work.
Community Orchestra Are you a musician looking for a group?  I have started a community orchestra in West Newbury and all are welcome.  We meet every other Monday from 7 – 8:30.  As of now we have a group of around 20 + or – with woodwinds, brass and strings.  Should you be interested in joining us please contact me at the following e-mail.  I don't answer my phone with unknown numbers but leave a message if you wish to call. There is no fee and we use the West Newbury Hall for rehearsals. Carolyn Keck carolynkck@gmail.com 802-558-2019
Conversational French 4pm at Bradford Public Library every 1st and 3rd Thursday
August The Bradford Public Library will commemorate the memory of long-time trustee Shirley W. Conrad by setting aside the month of August in her honor. A display of Shirley's paintings and photographs of her life will be on display in the Library's Reading Room during the month.
Aug 23-24 our church annual Yard Sale in the vestry
August 28 Bradford achools open … please watch for kids and school busses!
September 23-October 14
HELP SHAPE A SERMON is an open forum led by Pastor Jeff that will explore the lectionary reading for Sunday, October 20. The forum will meet each Monday beginning September 23 in the church vestry from 7:00 to 8:00 pm. We will explore the context, historical background and meaning of the scripture for us today. The sermon on October 20 will be shaped by the forum's input. You can come to one or all of the sessions. The readings we will focus on are:
Genesis 31:27-34 or Genesis 32:22-31
Psalm 119:97-104 or Psalm 122
2 Timothy 2:14-4:5
Luke 18:1-8
Participants are encouraged to bring their own Bible. All are welcome.
Sept 4 6:30pm at The Space On Main. Conversation about the Bradford Teen Center * The Hub *
What is it? • Who does it serve? How will it help? How can you get involved? Please come join your friends and neighbors in a conversation about this new project. Learn what's happening, share your ideas! Refreshments will be served
Sept 8 3-4pm at Bradford Academy West Newbury based photographer Ian Clark shares his photo journal of steam locomotives from across the country. Bradford was a railroad town when steam engines were popular. So popular, in fact, Bradford had two stations in town, one called the Bradford Station on Depot Street and, the other the Piermont Station just east of the junction of Route 5 and 25.
Sept 12 6:30pm at Bradford Public Library. Photographic Portrait Workshop with photographer and painter Cathy Cone. Bring your own camera.
Links to just some of the other Bradford Congregational Church pages:
http://bradforducc.org/ is our website
http://bradforducc.org/category/sermon/ is where you can read past sermons
http://bradforducc.org/newsletter/ is where you can read our monthly e-magazine: The Epistle
http://bradforducc.org/calendar-page/wild-game-supper/ is for Game Supper updates
http://bradforducc.org/adult-christian-education/ is for adult ed series
http://bradforducc.org/music/ is the start of the Programs: Music section
http://bradforducc.org/calendar-page/annual-report/ is to access the Annual Report
http://bradforducc.org/welcome/pastors-welcome-message/ is Pastor Jeff's welcoming message