We encourage and support the purchase of Fair Trade products.
---
Our church encourages all to participate in our recycling program!
---
Community Suppers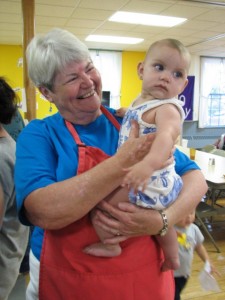 The Community Supper is a potluck gathering on the 4th Wednesday of the month, at 6:00 p.m.  There is always plenty, so don't worry about forgetting to cook something.  Come join us for fellowship and fine cuisine!  All are welcome!
---
News from the Board of Mission and Social Action
The Board of Missions and Social Action is sponsoring a collection of donations for the Vermont Refugee Resettlement Program, located in Colchester, Vermont. Due to limited warehouse space only the following items can be accepted. However, any amount of the following items will be of great help to a refugee family resettling in our area. Please consider dropping off a donation at the church or sending a monetary donation made out to BMSA to Ginny Moore, PO Box 604, Bradford, Vermont 05033. Our collection concludes on Sunday, March 27. Items will be delivered the following week.
KITCHEN – Dishes; glasses; silverware; pots; pans; woks; rice cookers; cooking utensils; mixing bowls; can openers
BATHROOM – Bath towels; bath mats; shower curtain and rings; toilet paper; facial tissue
HOUSEHOLD – Paper; notebooks; pens; pencils; school supplies; scissors; light bulbs; lamps; flashlights
PERSONAL HYGIENE – Toothbrushes; toothpaste; soap; shampoo; deodorant; disposable razors; sanitary napkins; diapers; other baby items
BEDROOM – Sheet sets (twin/double); comforters; blankets; pillows; pillowcases; alarm clock; clothing hangers; window curtains/rods
CLEANING SUPPLIES – Mops; buckets; brooms; dustpans; toilet brush and holder; wastebaskets; trash bags; paper towels; dish soap; sponges; kitchen cleanser; all-purpose cleaner; laundry detergent
---
Many folks asked for a copy of the poem Holly read when the BMSA preached on January 31. Here it is:
Refugee Blues
Say this city has ten million souls,
Some are living in mansions, some are living in holes:
Yet there's no place for us, my dear, yet there's no place for us.
Once we had a country and we thought it fair,
Look in the atlas and you'll find it there:
We cannot go there now, my dear, we cannot go there now.
In the village churchyard there grows an old yew,
Every spring it blossoms anew:
Old passports can't do that, my dear, old passports can't do that.
The consul banged the table and said,
"If you've got no passport you're officially dead":
But we are still alive, my dear, but we are still alive.
Went to a committee; they offered me a chair;
Asked me politely to return next year:
But where shall we go to-day, my dear, but where shall we go to-day?
Came to a public meeting; the speaker got up and said;
"If we let them in, they will steal our daily bread":
He was talking of you and me, my dear, he was talking of you and me.
Thought I heard the thunder rumbling in the sky;
It was Hitler over Europe, saying, "They must die":
O we were in his mind, my dear, O we were in his mind.
Saw a poodle in a jacket fastened with a pin,
Saw a door opened and a cat let in:
But they weren't German Jews, my dear, but they weren't German Jews.
Went down the harbour and stood upon the quay,
Saw the fish swimming as if they were free:
Only ten feet away, my dear, only ten feet away.
Walked through a wood, saw the birds in the trees;
They had no politicians and sang at their ease:
They weren't the human race, my dear, they weren't the human race.
Dreamed I saw a building with a thousand floors,
A thousand windows and a thousand doors:
Not one of them was ours, my dear, not one of them was ours.
Stood on a great plain in the falling snow;
Ten thousand soldiers marched to and fro:
Looking for you and me, my dear, looking for you and me.
---
Facts About Refugees in 2016
A refugee is someone who leaves their country due to war, violence, or persecution. They leave due to a "human made problem".
A person then becomes a refugee when he/she crosses an international border.
Right now there are 10.8 million refugees in the world, more that even after WWII.
There are 3 solutions when someone becomes a refugee.
a. go back home
b. integrate locally ( Burma to Thailand)
c. go to a 3rd. country… only 1% of refugees do this option!
This year the U.S. is settling 85,000 people, which is only 1% of the people seeking a new country.
The U.S. is playing a very small role in the world.
It usually takes 1,000 days to come to the U.S.  We saw an extensive schematic that explained all the steps necessary before someone can come to the U.S.
Once a year, in the spring, 9 federal refugee agencies get together and have an "NFL style draft" and decide who goes where. The aim is to build small communities for refugees of people from their homelands. There are 9 different countries represented in the people who come to Vermont. We met folks from Bhutan and the Congo.
Once someone has been notified of where they can move, they have 30 days to travel to that location. The Vermont Refugee Resettlement Program usually only gets 10 days notice of new refugees coming to the area. So they really have to act fast!
Currently, they are settling 350 people a year in the Burlington area. Burlington is an excellent site due to bus transportation, English language classes (which is the most important thing a refugee needs to learn to become self-sufficient) medical services with translators, and jobs. Koffee Kup Bakery has been recognized for the large number of refugees it employs at a livable wage of $14.00 an hour.
The assistance that the Vermont Refugee Resettlement Program offers is not a continuous hand out, but a way to get folks started. Refugees need to become independent in 3 – 6 months.
When they arrive they receive $925.00 per person. As you can imagine, this is really not enough to get started, especially if you are alone or just two people.
---
Matt Chamberlin's Story of Helping Refugees Reach Safety on the Island of Lesbos
On our first day on duty, we were supposed to do some small boat and procedural training. Instead after a short swim, we got word that there was a boat inbound-and not just any boat. It was a double decker wooden boat with an estimated 200 souls onboard, with an inexperienced helmsman. Our boat crews scrambled, the documentarians got the cameras rolling, and lifeguard team got in their suits. Volunteer teams started pouring into the beach area and soon from a distance we could see the refugee boat coming in. It was swerving crazily, given a wide berth by the rescue boats, and there was a charged feeling in the air. It had to pull in about 20-30 meters from shore so that it wouldn't capsize upon the rocks, and we formed two lines of lifeguards and volunteers. The refugees were frantic to get off the boat, and no surprise-it was packed to the rails on both levels with men, women and children, and the crossing had not been gentle. Soon enough, we started off loading the babies and the infants first, our feet scrabbling for purchase on the smooth slippery rocks. We struggled to keep their feet out of the frigid water, but as the children got bigger, their feet and pants were soaking-luckily, their were tents staffed by volunteers full of dry, clean clothing. Everyone was met onshore by a translator and a doctor and ushered to the tents for new clothes. Some of the children were bawling in terror-but I remember one in particular had a look of transcendent joy on his face, like he was not being hoisted over the water by a sodden, chilled American, but by angels.
The adults were more problematic, and some just walked from the chest high water to shore, relying on the dry clothes to prevent hypothermia. One young man, against an outcry of protests from the volunteers, performed a shallow dive off of the lower deck and strode defiantly to shore. Whether he was determined to make it on his own power or determined not to take help, I don't know. There was terror on some of their faces as they were eased into the water, and no small shock as they hit the 60 degree water. It occurred to me that it was possible that some of these people had never seen the ocean before, never mind leapt into it. There wasn't much time for occurrence though; we were a chain of humanity taking a steady line of human traffic off a rickety old boat, and for the next hour we lifted, carried, assisted, cajoled, guided, and soothed a train of desperate humanity to shore. Soon, the last soul was secured on the beach, and all the baggage had been lifter over. The lifeguards swarmed the boat like pirates, and I enjoyed taking a picture at the ship's helm, harkening back to my days on a Destroyer. We strode ashore shortly after, hyped on adrenaline and triumph. The beachhead was a swarm of activity, volunteers, doctors, nurses, and most importantly, the refugees. The young, the old, the sick, the wounded, and the strong young men, the future leaders of their communities, milled about. We stood on the periphery, in awe. This is what happens when we band together.
There were more boats-about five or six (I slept through one, I am chagrinned to admit-but the beach was thoroughly manned) during our time, and one shock as we discovered a group of Kurdish Iraqis walking over a sheep pasture at night-they had been dropped off by smugglers, who did a fast roundabout. Overall, we safely ushered between 500-600 souls on to the beach, and more importantly, into the European Union, where they will be granted amnesty. Theirs will not be a gentle road, especially for the women, and children, always the most vulnerable group in any populations.