Our Upper Valley is alive with the sound of music! When we learn of concerts and other musical events we will post them here to help spread the news. Bradford Congregational Church supports and encourages all levels and types of music. (If you learn of an upcoming concert or event please let us know so we can get it posted here.)
Winter 2018/2019
Bel Canto: "Last Month of the Year"
First Congregational Church of Lebanon
Saturday, Dec 8 – 7:30 pm     Sunday, Dec 9 – 4:00 pm
Choral music for the holiday and winter season featuring Dietrich Buxthehude's cantata "Das Neugeborne Kindelein" and pieces by Norwegian composer, Ola Gjeilo, accompanied by string ensemble. Also included will be traditional carols, spirituals and Ernest Bloch's "Prayer" from "Jewish Life", with Margaret Gilmore, solo cello.
$15, Adults     $10, Students     Free, under 13
North Country Chorus     Laud to the Nativity by Ottorino Respighi
and Lux Aeterna by Morten Lauridsen   
7:30 pm on Sat 1 Dec at First Congregational Church, Littleton    
3 pm on Sun 2 Dec at Peacham Congregational Church
Fall 2018
Soir d'Automne: An Evening of French Chamber Music
Friday, November 16, at 7:00 pm
Sanctuary, First Congregational Church of Lebanon (10 South Park St)
Admission $15

Pianist Henry Danaher, cellist Margaret Gilmore, flautist Leslie Stroud, and soprano Chiho Kaneko collaborate to offer a rich and diverse program of chamber music by French composers, featuring Maurice Ravel, Philippe Gaubert, and the virtuoso 19th-century pianist Louise Farrenc.
Oxbow's own "Olympian Love" will open Thursday, Nov. 1 at 7pm. Written and Composed in-house this hilarious look at Olympian love will delight all ages.
Billed as a "Family Friendly" production, "Olympian Love" will also be performed Saturday, Nov. 3 and Sunday, Nov. 4.
Adults $5, Students free. Come show your support for our high school drama and music students!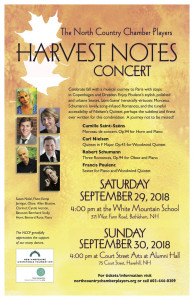 Upcoming Concerts in
Bethlehem and Haverhill:
North Country Chamber Players
4pm, Sept 29 and 30