How It Works
Our church library has been in place for many years and is available to everyone, not just church members. You can find it on the bookshelves in the vestry. Anyone wishing to borrow a book is most welcome to take it home and return it later. No time limits, or overdue notices!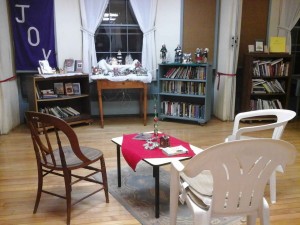 History
Originally this library was an extension of the Women's Fellowship "Adventures in Reading" program with the Vermont Conference Women's Fellowship. A list of selected books in each of four categories was generated each year and a fellowship would be designated a "Reading Church" of the Conference if ten members or more had read in all four categories.
From this start (when the Conference Library would loan the books by mail), we received funds from our own Women's Fellowship budget to build our own library using that AIR list as a guide. At the same time the Bradford Public Library began to get in some from the list's general category. No more waiting for inter-library loan!
A few years ago it became clear that our church library patrons wanted a wider variety and some classics as well. And so the library grew and grew to include not just books but magazines, recordings and movies. One Sunday after church we hosted an Adventures in Reading Epiphany soup and movie event of the thought-provoking "The Fourth Wiseman" based on Henry van Dyke's book, The Story of the Other Wise Man which is in our library.
Due to space limitations, the library has been culled back now to a much easier to peruse size and every few months will be totally switched out according to the season. On this page we will highlight suggested new books and will showcase classic favorites as well.
Please contact m3site@charter.net with any suggestions for books or questions about borrowing. Otherwise, please feel free to take out a  book, recording or movie anytime!
Click for: Library new acquisitions