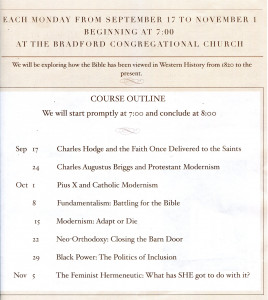 Sep 17 – Nov 5
Part II
The Bible & Its Interpretation
every Monday 7-8 pm
Pastor Jeff Long-Middleton will be leading the study that was developed from notes derived from a class offered by the Rev. Dr. Peter Gomes. This is the second of a two-part survey course in which participants are exposed to a broad overview of how the Bible has shaped and been shaped by our shared culture. we will begin our second installment with the American experience from 1820-1870 and how some saw the rise of Biblical criticism as a threat to faith's vitality.
This is not a traditional "Bible Study." Rather we will continue our exploration of how the Bible has been viewed from 1820 to the present. It is not so much a "Bible Study" as it is a "Study of the Bible." You don't need to have in-depth knowledge of the Bible to enjoy this study. But an inquiring mind helps!
Open to anyone who is curious about the Bible's formation, historical significance and its impact for today. Bring only your open mind!