"You Are Invited…"
Rev. Jeffrey Long-Middleton
Bradford Congregational Church-UCC
Luke 10:38-42
July 28, 2019
But the Lord answered her, 'Martha, Martha, you are worried and distracted by many things; there is need of only one thing. Mary has chosen the better part, which will not be taken away from her.'
– Luke 10:41 & 42i
I think there are at least three different ways to interpret this encounter between Jesus, Martha and Mary. For the first two, I will make use of art and by looking at how these two paintings were interpreted, gain a sense of how this story has served as a gateway into God's truth. The third approach is to see the words of Jesus not so much as a rebuke of Martha but an insight into the mission of Christ.
But we have to do something first. I have to justify the effort. What good is an art lesson posing as a sermon? I believe this story can help us in our walk with God and the deepening of our faith. That's what we are aiming to do. At the end, you can decide if the payoff was worth the effort.
Before examining our first picture, let me confess that I have long thought Maratha had a point and that being chided by Jesus seemed unfair. I know what it's like to be a host. Some weeks back, Ellen invited the graduating class for the Doctor of Nursing class. I think there were over twenty-five people in attendance. I didn't know anyone so my task was clear – help get the plates, silverware, cups, Hors d'oeuvres and grill the hotdogs and hamburgers. It was a really fun evening but these people had come to a picnic. We were obligated to provide one. Believe me, Ellen was plenty busy. She wasn't exactly sitting and having a chat. She did at least, if not more than I did. At the end, we thanked each other for what the other one had done.
Not so for Martha. She felt put upon – out in the kitchen doing all the work. She even asked Jesus to tell Mary to get up and help. I have to confess, part of me doesn't blame her.
Let's turn to our first paintin
g. It's by Diego Rodriguez Velazquez (1599–1660) entitled Christ in the House of Martha and Mary and dates between the years 1629–1630.1 What do you see? The first thing that struck me was the addition of two people not mentioned in the Biblical story. There is Martha, of course, but the matronly lady who stands directly behind Martha, pointing the finger and apparently saying something to Martha, she's a new addition. And look in the mirror. There is Mary at the feet of Jesus and she, too, has an apparent chaperone. Remember, this is the ancient Middle East. For a woman, a single woman, to have invited Jesus into her home would have been rather scandalous and may explain the addition of these two additional women. The art historian referred to in the commentary on this passage suggests you can see the frustration in Martha's expression and that the woman standing behind Martha is telling her to stay on task, to get the meal on the table.
Haven't we all been exasperated at the laziness of others? "They simply don't appreciate all I have done and am doing. They seem to take their rest or think of themselves as too privileged to do the work that makes it all happen. If they shared the burden of doing what is required, we could all have some time with Jesus." In this frenzied world, isn't that where we do our living? We can become so preoccupied we loss sight of what Jesus called, "the better part." When was the last time I made time for God? I could give you my calendar and you'd find appointments and engagements that are to come or have past. What you won't find is any time set aside to seek a presence and to pray for a spirit. My days are filled with things that I tell myself have to be done. God is lucky to get a second thought. Our Muslim brothers and sisters have devotion woven into the fabric of their day. The second pillar of Islam is the requirement that prayers be made seven times a day. Would my view of life change if I followed the same practice? Would yours?
In the end we have forsaken the Sabbath. We make little time to contemplate the Holy or seek communion with the One who has proved the depth of God's love. No, we like Martha, stand in the kitchen mortar and pestle in hand, grinding away. In this painting, in this story, Jesus reminds us that time with Him matters most.
Our second picture takes a different tack.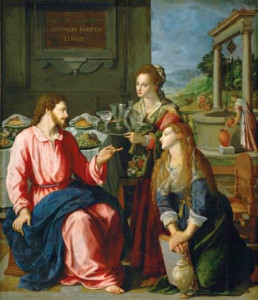 The artist, Alessandro Allori (1535–1607) in his painting Christ in the House of Mary and Martha,2 attempts to present a more balanced understanding between that which has to get done in the world and the need to be in communion with God. The art critic who commented on this painting sees Jesus as pointing to Mary but with His head turned He is looking at Martha. The critic suggests Allori saw Jesus as being aware of both those who are actively engaged in ministry/work and those who seek to know Christ more fully.
This is an important point. People of faith often confront two dangers. On the one hand, we are convinced that God has called us into the world to be agents for the good. We engage in good works. We participate in programs that feed the hungry. We collect cloths for those who have little. We give to the Communion Fund so the church can help those who have fallen on hard times or who have a special need. We do these things because they are a reflection of Christ's spirit and in their doing we seek to make the world a better place. But too often the thing we do becomes the measure of our faith. Sometimes, Christians think that their works will save them rather than their faith. On the other hand, I know that I have a tendency to think that I have done something when all I've done is develop a clear sense of what I believe God wants me to do. So I talk about the plight of the poor and think that I have actually done something to lift their burden. I speak of justice and think that by simply noting its importance I have advanced justice's cause. Oh, my friends, how we need this balanced Jesus who notes the contribution of Martha while honoring the communion Mary seeks. Only when the two are kept in a dynamic tension can Christ's cause be advanced.
One final note. I don't have a picture for this one, but did you notice how Jesus says Martha's name twice?
"Martha, Martha, you are worried and distracted by many things; 42 there is need of only one thing. Mary has chosen the better part, which will not be taken away from her."
The only other time Jesus cites a person's name twice is when addressing Simon in Luke 22:31.
"Jesus says, "Simon, Simon, look—Satan has demanded you all in order to sift you like wheat." He isn't rebuking Peter, but trying (unsuccessfully) to get him to take this warning seriously."3
Of course, it all depends on how Jesus said it – with a note of irritation, with frustration, or did He simply hope to gain Martha's attention? But I no longer see it as a rebuke. I don't think Jesus is telling Martha to get out of the kitchen and sit next to Mary because her sister "has chosen the better part." I think Jesus is indicating that while He is in their midst, seeking to be in His presence is "the better part." But note this. Jesus says it is "the better part" thus implying that there is more than one part. Mary cannot have chosen the better part if there were no other parts to be had. Jesus may be implying that the work Martha is engaged in, while not the better part, is still a part. Does it mean that all of us who labor in the field on behalf of God's vision have a part? I believe it does. But note that the "better part" is to sit at the feet of Jesus. It is the only way to ensure that the work of Martha is anchored by the vision of Jesus' purpose. Let us pray.