The tradition of handing out and waving palm fronds is relatively new for mainstream Protestant churches. It grew in popularity after Word War II when access to palm trees expanded. In our church, the fronds are ordered well in advance and usually originate from points south of the border.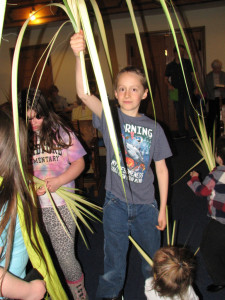 Sometimes we have the children march in ceremoniously waving the palms. Sometimes we have handed out the palms to congregants as they entered the sanctuary. A few times the palms were strewn on the front of the altar platform and congregants came forward to get them.
The past 20-25 years any remaining fronds have been gathered up and put into a tall vase and placed on the altar platform during the annual Choir Festival.
Several times in the past 75 years different ministers or youth group leaders in our church have collected those left-over fronds after the festival to burn ceremoniously and bring back the next Ash Wednesday. Some older parishioners may remember collecting the left-overs to give to their Roman Catholic friends, who in turn handed them to their priest to burn.
A favorite craft with the fronds has been the weaving of palm crosses which people take home to place on their front doors, or use as a Bible bookmark, or to give away. For a good lesson on making one click here.
Here are just some views of Palm Sunday around the world.
Beirut, Lebanon
Greek Orthodox Christians march during a procession in the capital…in the Middle East and Mediterranean countries Palm Sunday processions are the most popular tradition.
Moscow, Russia
Children paint a huge symbolic egg in preparation for Orthodox Easter after Palm Sunday mass at St Peter's Cathedral in the High-Petrovsky monastery

Manila, Philippines
A girl holds palm fronds for blessing … notice the intricately folded palm "flowers" on each stalk. They can be purchased from palm merchants already complete or crafted at home.
Ashmanyany, Belarus
A woman prays on a hill near wooden crosses after a procession marking Palm Sunday
Tokarnia, Poland
Palm Sunday procession
Lahore, Pakistan
Palm Sunday mass in St Anthony church
Heiligenstadt, Germany
People carry a huge crucifix during the Palm Sunday procession through the old town in central Germany
Jerusalem, Israel
Orthodox communities attend the Palm Sunday procession at the Church of the Holy Sepulchre in the old city Jerusalem, Israel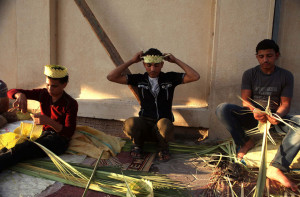 Egypt
Coptic Egyptian street vendors prepare Palm fronds for sale during Palm Sunday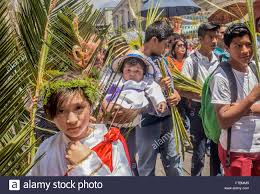 Mexico
Palm Sunday procession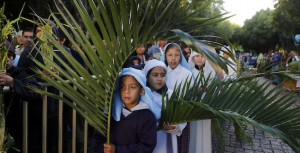 Caacupe, Paraquay
Children waiting to process into the cathedral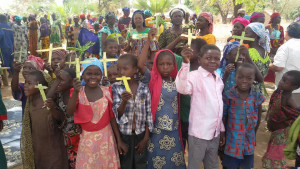 Chad, Africa
Children showing off their palm crosses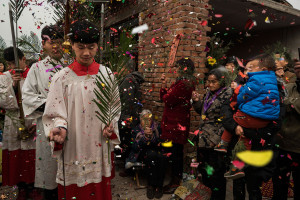 China
Palm Sunday includes confetti!